Ricky Brabec Talks Winning 2020 Dakar Rally, Being First American to Win
By Kris Keefer (Racer X)
Last year during the 2019 Dakar Rally, it appeared Ricky Brabec would do the impossible. The American was leading the Dakar Rally as he rode his Monster Energy Honda to a lead of more than seven minutes through stage seven (of ten). But only 56 kilometers into the 361 kilometers of stage eight, Brabec suffered an engine failure that ruined the chances of having his name written in history.
After another year with his sights set on winning, Brabec set off to Saudi Arabia for the 2020 Dakar Rally. Brabec was out for redemption and—even with the thought of not finishing the event last year on his mind—he and the Rally HRC Honda team were able to accomplish history. Brabec became the first American to win the Dakar Rally and the California native dethroned KTM's recent dominance in the event.
Our Kris Keefer caught up to Brabec to discuss how he adjusted his training for this year's event and what's next for the champion.
Racer X: How does it feel to be the first American to win Dakar? Has it sunk in?

Ricky Brabec: No. It hasn't sunk in. It feels really good though. As a racer, it's just another race that we did really good at. I don't think of it as me being any different. I'm a normal person, and we're going to go back and race again. It was pretty cool getting all of the support from all the people back home though. That was a great feeling. It's crazy really. My phone hasn't stopped ringing. I think I might get to go to the San Diego Supercross and ride my rally bike around on the stadium floor. That will be cool!
Have you realized what you just accomplished as far as being the first American ever to win the Dakar?

Yeah. I realize what we've done. Winning Dakar as an American, winning Dakar on a Honda—it feels unbelievable, but there's a lot more to be done. I appreciate all of the American effort that have come before me and I'm glad that we were able to accomplish such a huge undertaking. You know how us racers are wired Keefer, so we're not going to stop here. We can't let it get to us and make us settle. We've got to soak it in for a little bit, enjoy it, but eventually we're going to have to put our head down and try to back it up. I don't want it to be a one and done type of deal, you know?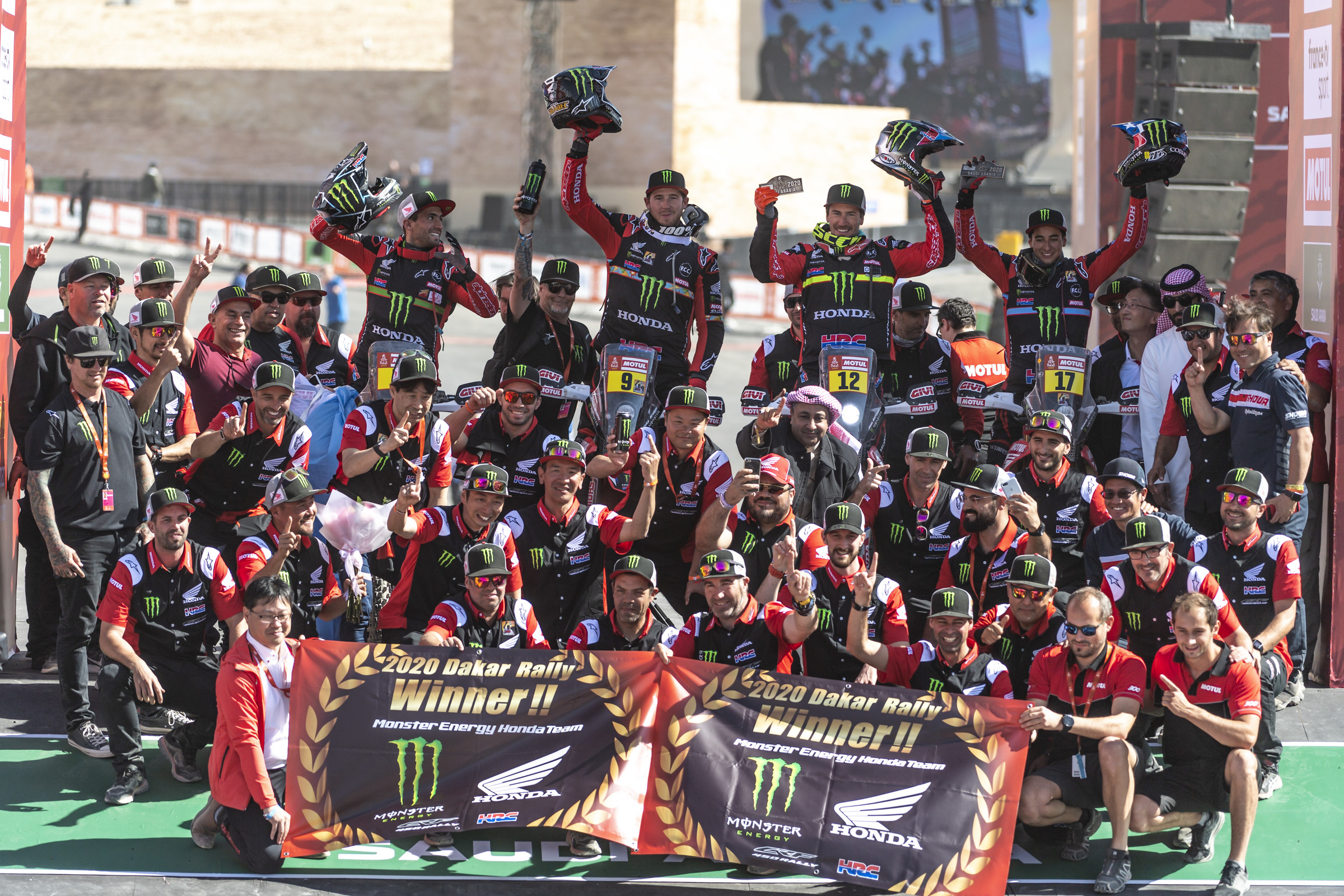 Take us back a little bit… What started all of this Dakar dream of yours? You're a National Hare and Hound champion. Obviously there's a big difference between doing that and Dakar. So what started all this Dakar stuff?

One morning in 2015, I think it was, Quinn Cody called me as I was making breakfast and asked if I was interested in rally racing. I just told him, "Yeah, but I don't know anything about it." He's all, "Alright. Well, if you're interested I could take you out and go training. If it works out well then we're going to ship you off to your first rally, which would be the Abu Dhabi desert challenge." I thought it sounded like fun, and I'm always down for something adventurous, so it started there, and ever since then I just stuck with rally and progressively got better.
How was your training leading up to Dakar this year versus previous years? Anything different?

Last year, 2019 Dakar, from October to basically Christmas, was the same training program that I did this year. I just think I advanced a little bit in the training. I usually go from Morocco. It's in October. Once I get home, I usually train hard from there until the day I leave. So it's been the recipe for the past two years, and I think that's the recipe. But I'm not going to really explain or tell people what I exactly do to train because it's like my trick. So I don't want people to take advantage of what I do and hope that they get better.
It's funny because you and I used to moto a lot. You had your Honda CRF450RX and we would throw down. I noticed this past year we didn't do much of that. You told me you wanted to focus more on your rally bike. You even took your rally bike to the motocross track this year several times. How was riding that rally bike almost year-round, and on the motocross track?

I don't really moto as much as I did in 2014 and '15. Moto is a really good training program for sprint enduros, Hare and Hounds and moto of course, but since I've been doing rally the last two years, I've kind of stepped away from the motocross track and haven't really done any motos. I just go to the track for some fun. Last year in '19 I started taking the rally bike on the motocross track. Just getting roosted!
It got so much attention.

Yeah, bringing a big bike like that to the track is really fun. I feel a little bit more comfortable on that than I do a moto bike, so you guys are going to see me at the motocross track some more this year with the big bike.
How was the overall race experience in Saudi Arabia? How was the overall race experience there? Scary for you?

The race experience in Saudi was nice. The desert was more or less like we have here, except for the second week was all dunes. But the first week was all fast, rocky, high speed in areas, technical in other areas. The navigation was really tricky. Training with Jimmy Lewis was really key. His road books are tricky. The first week into the Dakar was just like the Mojave Desert, so I felt really comfortable where I think those guys were a little bit scared. You had to go fast in the rough stuff to really get some time on those other guys. Saudi is a really nice country and everyone there is very polite. It's nothing like we think it is as Americans. They're wearing their coats. The women have their faces covered up and their eyes showing, but they're really polite. They all speak English so you feel really comfortable there. I think English over there is the number one language. Every single person that I talked to spoke really good English.
I know Johnny Campbell has been an integral part of your rally regimen, obviously, for the past few years, but a lot of people don't know that you added Kendall Norman as your mechanic for this year. Tell us a little bit about how that worked and how maybe that eased your mind a little bit going into 2020.

Johnny is a big mentor of mine. He helps me training, helps me in the rallies, helps with cooking while I am racing. Hide [Hanawa] was my mechanic the past two to three years, but Hide's position got moved up to crew chief. So we were looking for a new mechanic for me and I was kind of wanting an American mechanic that raced dirt bikes so he could understand what I'm trying to explain. Kendall fit that job perfectly. Kendall is really particular when he works on his motorcycles. He was working late every night on my bike, damn near tearing it all the way apart. New linkage and bearings almost every day. Never washed our bike with water. Always with a wet rag. He took really good care of me, took really good care of the motorcycle. I gave him a perfect bike every day. I smashed maybe three skid plates, but other than that, the bike only hit the ground twice in the sand dunes. I had a very smooth rally. So I think we worked well together and hopefully we can continue this.
You had a DNF last year while you were winning. Did that ever creep into your head while you were racing this year?

My DNF last year was in my head from day one! The closer I got, the nervous feeling of DNF'ing again was getting more real. But I was doing oil sample tests and checking the bike from the computer every single day. The Japanese were taking good care of me. I think now we have an unbelievable motorcycle that's reliable, as we all see. All the training and all the durability that we did in August in the desert is paid off.
What's next? What's on your schedule? What do you want to do? You've won Baja. You've won Dakar. You've won a National Hare and Hound Championship. What's next for Ricky Brabec?

I want to go back and try to win Dakar again. Back up the number one plate. I don't know the immediate future yet though. I need some time to unwind a little. I'm going to relax and then see what avenues show up and what direction I want to go. But for sure, dirt bikes are always going to be in the blood and racing is always going to be in the heart, so I am sure I will be racing something soon. I'm going to race for as long as I can and see what other big things I can accomplish before we're too old.
Do you have a contract yet? Are you coming back to Honda, or is that still in negotiations?

I don't have a contract at the moment. There's a lot of talk going on. I just wanted to make it through Dakar and get home before I decided what I was going to do. So we had a good Dakar. The team worked well. No contracts other than Honda have been introduced to me, so most likely we are going to stay with Honda. I wanted to get home and get through Dakar before I made a decision. I believe everything worked well, so I think we're going to continue with Honda and see if we can back up this overall win another time or two, maybe three.
Last question. It's probably the most important question. Are you still looking for that special lady? You know my homelife theory and I know we're in the high dez (high desert) and there's not a lot to choose from here. You're 28 now, how are we doing?

Yeah. Twenty eight years old, going on 58! Now that I've made the dream come true and pulled this together, it will be a little bit easier to settle down because the focus was real for the last two years of Dakar. So we'll see what happens. I would love to have this "homelife" you refer to. Honestly, I'm blind and it could be right in front of me and I wouldn't even know it. Keefer, you have to help me out!
---